Plumbing Repair & Installation
Pipe Burst-House Flooding-Crawl Space Flooded
Water Heater Leaking-Sewage Backup-Gas Leak-Etc.
ACCURATE ESTIMATES | NO TRAVEL CHARGE | LOCALLY OWNED & OPERATED
Plumbing Repair & Installation in Franklin, Brentwood, Columbia, Spring Hill, and Mt. Pleasant, TN.
Plumbing Services
Pipe Master Plumbing has 20+ years of experience repairing and installing nearly every type of project.
Whether you need a leak fixed, want to install a tankless water heater, need major plumbing renovation work done, need excavation and water lines repaired, or you just want a new shower head system installed…
What are the types of plumbing services?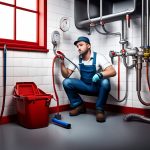 Various types of plumbing services are available for different needs and situations. Some commonly known types of plumbing services include:
Plumbing services are offered around the clock to handle urgent plumbing problems that require immediate attention. These services can assist with issues such as burst pipes, serious leaks, and overflowing toilets.
Identical Plumbing Services are specialized in catering to the plumbing requirements of homes and residential properties. They involve various tasks such as installing and repairing fixtures like sinks, toilets, showers, and faucets, detecting and fixing leaks, unclogging drains, and overall maintenance of the plumbing system.
Plumbing Services provides plumbing services specifically for businesses, offices, and commercial properties. Their services include installations, repairs, and maintenance of plumbing systems in large-scale settings such as restaurants, hotels, hospitals, shopping centers, and office buildings.
Drain cleaning services are experts in the task of unclogging and cleaning drains. They employ different techniques such as snaking or hydro-jetting to eliminate blockages caused by debris, hair, grease, or mineral accumulation. Regular drain cleaning helps in preventing significant blockages and ensures an uninterrupted plumbing system.
Heater services primarily deal with the installation, repair, and maintenance of water heating systems. Such services cater to both traditional tank-based water heaters and tankless water heaters. The plumbers are well-equipped to handle problems like inadequate hot water, leaks, unusual sounds, or defective heating elements.
Plumbing services include fixing and exchanging pipes that are damaged or leaking. No matter if it's a small or large issue, plumbers can evaluate the problem, choose the correct repair method, and ensure that the pipes work as intended.
Sewer line services involve maintaining and repairing the main sewer line which connects a property to the public sewer system. Plumbers can carry out inspections, detect blockages, clear out sewer lines, and make repairs or replacements when needed.
Services don't just cover repair work; they also include regular inspections and preventative maintenance to guarantee smooth operations of your plumbing system. During these inspections, plumbers can detect leaks, evaluate water pressure, examine connections and fixtures, and identify potential issues before they turn into expensive repair jobs.
Ensure you get the plumbing services you need, consider reaching out to a plumbing company in your area to discuss your requirements. Keep in mind that certain services may not be available depending on the region and the company.
We have you covered.
Our team is competent and guarantees the that the job is done right or our labor is free.
Let's Connect on Social Media!